Who is not alive to the fact that St. Patrick is credited with the advent of the faith in Ireland? Even though he holds such special credit, there's evidence to show that he came to Ireland late. In fact, he apparently succeeded rather than preceded a number of other missionaries. Whatever the truth is, history has it that there was a bishop who was appointed to lead Christianity in Ireland in 431AD. Many people believe that the said bishop was Patrick.
The arrival of Christianity did not only bring faith, but also added experience and knowledge of the larger world to the people of the Irish islands. Christian missionaries and their highly regarded values and the learning of significant skills like writing and reading became widespread. The two skills were not then known to a number of the Irish populace who still relied on antique methods to relay information and impart knowledge. Missionaries also brought effective farming and business methods, skills that were not abundant in Ireland. This resulted in a rapid rise in the population, even though this happened at a time of conflict among and between the Irish people. Christians and non-Christians swiftly adopted the new methods of farming, leading to a more productive land. Which meant more profit and better food supplies for the locals. Another immediate result was the prompt rise of community chieftains who ruled over large portions of land through the help of their clans. These chieftains fought tooth and nail to ensure that they retained the overall control of land and sought to capture even more in order to extend their influence.
This struggle for control led to the development of fortified enclosures, as well as the construction of numerous new forts across the country. Most of these forts were located too close to each other, while others were developed in the same geographical area as the Christian monastic settlements. This is the period that saw the construction of numerous duns, cahers, lisses, and raths – most of which dot present day Ireland.
It is said that the first Christians arrived in Ireland between 400AD and 800AD. They are believed to have come from Gaul (France) and Britain. There are no proper records that tell of the kind of life early Christians had in Ireland, hence leaving us more questions than answers. The Irish were staunch supporters of the Druids who helped them build excellent ritual sites such as the renowned passage tomb of Newgrange, which was constructed in the Stone Age period in Ireland. The Druids are also credited with the construction of numerous monuments in Ireland at that time, which signified their level of devotion to worshiping the sun.
How did Christianity arrive in Ireland?
Saint Prosper published a chronicle in 433AD that describes how the first Christian mission was carried out in Ireland. Pope Celestine consecrated Palladious to be the first Bishop of the Irish who believed in the Christ. This notion is disputed by many who believe that Palladious was not the original canonical bishop to lead Ireland. This leads to the conclusion that Ireland was settled by four main bishops, who were: St. Ciaran of Saigir, St. Declan of Ardmore, St. Ailbe of Emly, and St. Abban of Moyarny.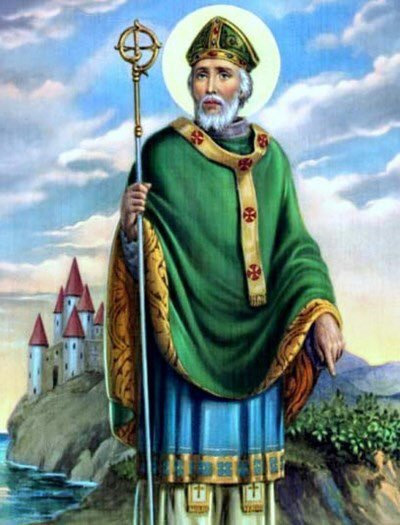 Saint Patrick's arrival in Ireland
Patrick was briefly enslaved in Ireland before he returned to Britain, where he was ordained to be a cleric. St. Patrick later went back to Ireland as a Christian Missionary in 432AD. The Book of Armagh describes his confession regarding his call to Ireland:
I saw a vision, deep in the night, of a man named Victorious, who came from Ireland with numerous letters. He gave one to me, and I read it through. While reading through the letter, I heard a voice as though from the Irish near the sea at the west. They beckoned me in unison to come and be with them once more. These words deeply touched me, and I read no further, hence woke up. The Lord gave me the opportunity to serve as they were calling me to do.
After St. Patrick landed in Ireland, he settled at the coast, which is currently called Inish-Patrick. It was here that he converted Benignus to Christianity. He would later lead the founding of a monastery that existed for a long time. Patrick also converted Dichu Mac Trichim, a local pagan. He went on with his mission for a period of around 30 years, enthusiastically converting many to Christianity.